Attendance
Meet Junior our Attendance Bear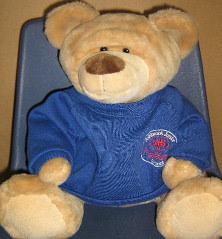 We encourage our children to come to school every day to support them in their learning and provide them with opportunities to achieve their very best!
The compulsory school day runs from 8.55am to 3.25pm, totalling 32.5 hours each week.
Every week, we monitor which class has the highest attendance and that class gets to have Junior for the week visiting them in their lessons.
Over the weeks, the children aim for the following:
3 x Junior = 15 minutes extra playtime
6 x Junior = A non-uniform day
9 x Junior = 30 minutes extra playtime
12 x Junior = a special DVD with 'popcorn'
100% attendance for a class = a non-uniform day
Every half term, we reward the class with the highest attendance with a reward of Pizza!
We monitor the termly attendance. The children who achieve 100% for this get a reward and a chance to take Junior home for the holidays!
Those children who achieve 100% for the whole year get a reward: a chance to take Junior home and enter in to a prize draw!