Mental Health and Emotional Wellbeing
Well-being
Wellbeing is about our thoughts, feelings, emotions and ability to react to life. A good sense of wellbeing is feeling ok and able to cope, even when life or situations are challenging.
There are some simple ways to help yourself manage your own well-being day to day in the form of 'five ways to well-being.'
https://www.nhs.uk/mental-health/self-help/guides-tools-and-activities/five-steps-to-mental-wellbeing/
This important message gives us permission to take time for ourselves and be in the moment and focusses on the positives. This is similar to mindfulness. If you can try to follow these 5 ways throughout your daily life, you will find it much easier to cope with stress.
What 5 things can you do today to connect, give to others, take notice, keep learning and be active,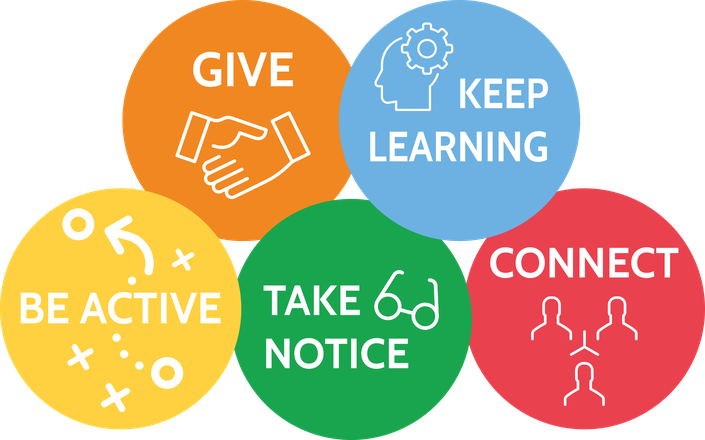 Children can also follow the 5 ways to well-being. This will give them long lasting skills to grow with them through adulthood to hopefully reduce the risk of them developing mental health issues.
Sometimes our wellbeing is affected by things out of our control: illness, a stressful family situation or crisis. When our wellbeing is affected and we don't feel able to cope, this can lead to mental health concerns: sadness, depression and unhelpful thoughts that can stop us from enjoying and coping with daily life.
Mental health Illness
Sometimes, people are born with a mental health illness which affects them throughout their lives. They might have different ways of being supported and coping with their mental health illness; they might take a medicine or they might have a doctor or counsellor that they talk to, to help them cope and regain a sense of wellbeing.
Mental illness is often invisible, but that doesn't mean it should be hidden. Statistics tell us that most people suffer from a mental health concern at some point in their lives and that one in ten young people struggle with their mental health. People with any illnesses, whether they affect our mental or physical health, deserve support, help and understanding.
Breaking the stigma
Understanding and responding to our mental health, and wellbeing needs, is something we believe in at Ashbrook Junior School. We aim to take away the stigma and negativity and help our pupils and families to talk openly.
In this section of our website, we hope to share our activities and learning in school, as well as helpful advice, websites and contacts. If you would like to see anything added to this site, or to speak more about wellbeing and mental health, please ring school and speak to Mrs Johnstone or Mrs Thompson, who are both Mental Health First Aiders, for a confidential chat.
5 day mindful challenge - all senses
The following websites have been vetted and approved by the NHS. We recommend that parents always look at and test out apps and games for themselves before introducing their children to them:
Here are some websites aimed at adults, dedicated to supporting Mental Health and Wellbeing. They contain lots of good advice and a series of free, downloadable books on a range of topics including anxiety, stress, the workplace, self harm, mindfulness and exercise.